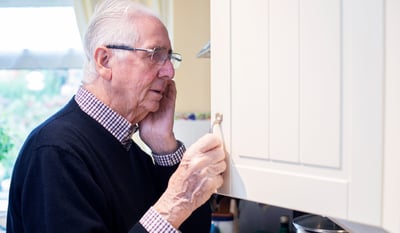 If your loved one has been diagnosed with Alzheimer's disease or another type of dementia, you may wonder how long they'll be able to remain at home. While each person's journey is unique, Alzheimer's disease, in particular, is a progressive disease. In the early stages, most can remain largely independent. However, over time your loved one will need likely need more support than can be provided at home. These signs can help you determine: when is it time for memory care?
When Is It Time for Memory Care?
If Alzheimer's disease or another type of dementia has started to affect your loved one's ability to live independently, maintain a social life, or care for themselves, it may be time to consider memory care. Specific signs more support is needed include:
Safety Concerns
Does your loved one confuse day and night?

Do they forget to turn off burners when cooking or use electrical appliances incorrectly?

Have they set the thermostat extremely hot or cold?

Does your loved one get lost frequently when leaving the house?

Do they often lock the keys in the car and/or the house? Or lose their keys?

Have they started wandering?

Are they exhibiting any other behaviors that are dangerous to themselves or others?
Health Concerns
Is your loved one starting to become more agitated and anxious?

Are they having problems with incontinence?

Have you noticed sudden weight loss or gain in your loved one?

Do they have decreased mobility?

Do they often forget to bathe?

Are they making an increasing number of medication errors?
Emotional Wellbeing Concerns
Does your loved one seem depressed

Do they have regular opportunities for social stimulation?

Do they have access to activities that can help strengthen cognitive functioning?

Do caregivers and/or loved ones have the training necessary to appropriately manage agitation and other common behaviors in those with Alzheimer's disease?
What To Expect in Memory Care
Memory care is a type of senior living designed just for those with Alzheimer's disease or other types of dementia. In memory care communities like ours, you'll find specially-trained staff, individualized support, and 24-hour supervised care. Residents enjoy a safe, comforting environment as well as opportunities to be active, have a purpose, and experience joy each day.
Our memory care communities feature:
Private or semi-private accommodations

Onsite registered nursing team and ongoing staff training

Medication monitoring and regular health assessments

Support with daily tasks such as bathing, dressing, and eating

A familiar daily structure, often with the same caregivers

Individualized wellness programs

Three daily meals with personalized nutrition and delicious, yet nutritious options with dining assistance if needed

Coordinated social, fitness, and enrichment activities tailored to each resident's abilities

Housekeeping and linen services

Scheduled transportation

Secured building access and sensory alarms for prompt assistance
Memory care not only gives your loved one a number of benefits, but it also gives your family peace of mind that they are receiving the care and enrichment they need in addition to the dignity, respect, and understanding they deserve.
For more information, download our Senior Living Options Guide today!