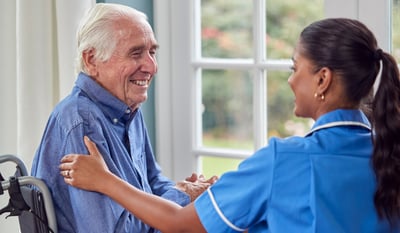 Often, a diagnosis of Alzheimer's disease or another type of dementia leaves families with more questions than answers. Most likely, one of those questions is what's the best way to support mom or dad's needs right now? Memory care may have been recommended as a solution, but many families aren't familiar with the benefits. We can fix that, from what is memory care to how it can help mom or dad continue to enjoy a full and purposeful life.
What Is Memory Care?
First, let's start with defining exactly what memory care is. This type of senior living is designed just for those with Alzheimer's disease or other types of dementia. In memory care, you'll find specially-trained staff, individualized support, 24-hour supervised care, a safe, comforting environment as well as opportunities to be active, have a purpose, and experience joy each day.
Although not every memory care community is the same, there are usually some common features that you can expect such as:
Private or semi-private accommodations

Onsite registered nursing team and ongoing staff training in memory care

Medication monitoring and regular health assessments

Support with daily tasks such as bathing, dressing, and eating

Individualized wellness programs

Three daily meals with personalized nutrition and dining programs

Coordinated social and enrichment activities

Housekeeping and linen services

Scheduled transportation

Secured building access and sensory alarms for prompt assistance
Memory care is typically offered in two settings, as a neighborhood or unit within an assisted living community or as a stand-alone community designed exclusively for those with dementia. Often, in either case, memory care will be on the same campus as other types of senior living which has advantages that include:
Your loved one could potentially move to assisted living initially and transition into memory care later.

Couples, in which one has dementia and the other does not may be able to remain together; at least on the same campus.
Benefits of Memory Care
Memory care not only gives your loved one a number of benefits, but it also gives you peace of mind that they are receiving the care and enrichment they need in addition to the dignity, respect, and understanding they deserve. Specific benefits include:
Specialized Training – This gives staff a deeper understanding of dementia and its effects on the brain, how to care for the specific needs of those with dementia, techniques for managing challenging behaviors, and effective communication strategies.

Daily activities – This could include sensory stimulation, cognitive therapies, physical and occupational therapies, and exercise. Your loved one will have plenty of opportunities to interact socially as well. But it's all within the comfort of a familiar daily structure, often with the same caregivers.

Unique therapies – Many memory care programs offer music, art, and/or pet therapy as research has shown they can help to reduce aggression and agitation for those with Alzheimer's and other types of dementia.

Supportive dining – Your loved one will enjoy nutritious dining options that are easy to chew and may include finger foods to promote independence. However, dining assistance is also available if needed. Plus, it's all in an intimate setting where they can feel comfortable and relaxed.

A Comforting Environment – The memory care environment is designed not only to be safe and secure but also comforting for residents. It typically features an easy-to-navigate layout as well as the use of color and lighting to create a calm, relaxed environment.
When Is It Time for Memory Care?
While deciding when it's time for memory care is a decision only your family can make, we feel it ultimately comes down to where your loved one will be able to make the most of life now and down the road. This goes beyond safety and care as it's also just as important that they have enough social stimulation as well as opportunities to stay active and to find purpose. Consider your family as well, and the circumstances which will allow you to spend the most quality with your loved one as their son, daughter, husband, or wife versus their caregiver.
For more information, download our Senior Living Options Guide today!