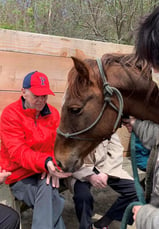 Although you think your loved one with Alzheimer's disease or dementia would be best supported by memory care at this point, you may be wondering how to choose the community. While memory care is designed to nurture those with Alzheimer's disease and other types of dementia by providing specially-trained staff and a supportive, safe environment, not all communities are alike. That's why it's important to visit more than one community to compare.
As you tour senior living communities, here are the memory care questions to ask to find the best fit for your loved one.
What to Expect in a Memory Care Community
If you haven't considered memory care before, it's helpful to have an idea of what to expect as a baseline for when you compare communities. Memory care is actually a type of senior living although, as we said, it's designed just for those with Alzheimer's disease or other types of dementia. In memory care communities like ours, you'll find 24-hour supervised care and our residents enjoy a safe, comforting environment as well as opportunities to be active, have a purpose, and experience joy each day.
In general, memory care communities feature:
Private or semi-private accommodations

An onsite registered nursing team

Medication monitoring

Support with daily tasks such as bathing, dressing, and eating

Three daily meals

Fitness programs and social activities

Housekeeping and linen services

Secured building access and personal emergency response alarms
Memory Care Questions to Ask When Touring Communities
As you tour ideally up to three communities, keep these memory care questions in mind to help you more easily compare in finding the best fit for your loved one:
What level of personal assistance can memory care residents expect?

What are the qualification requirements for the staff?

Are staff members offered additional or continuous training opportunities?

What is the staff-to-resident ratio in the memory care community both day and night?

What are the monthly costs for housing and care, and what services are included in those costs?

Are the rooms private or semi-private, and what are the differences in cost for each?

How is the memory care community secured?

What is the typical daily routine for residents?

Can the memory care community accommodate special dietary restrictions or requests?

Is dining assistance offered for memory care residents?

What programs (exercise, physical therapy, social and other activities) are offered?

Does the community accommodate special needs, such as diabetic care, mobility issues, aggressiveness, or wandering?

How are residents with differing cognitive ailments grouped for activities?

How does the memory care community handle medical emergencies?

How often are housekeeping and laundry services provided?

How often do residents leave the community for outside activities?

How often can friends and family visit?

What's the best way for friends and family to receive updates on a loved one's well-being?

What is the policy for discharging a resident from the community?
For more information, download our Just the Facts Guide to Memory Care today!