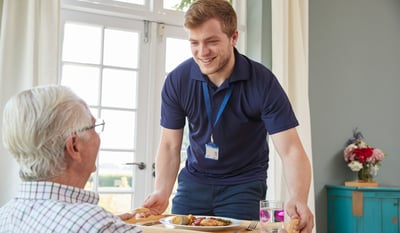 It's certainly no secret that when most people begin to need a little extra help with daily activities or with health issues, they prefer to do so at home. Are there times when at-home care is best? Yes. Are there times when that's not the case? Also, yes. Here's how to determine when at-home care is right for you or your loved one.
When At-Home Care Is the Best Fit for Seniors
There are two main options for at-home care. The first is home health care which is provided on an as-needed, hourly, or 24/7 live-in basis. Services typically include personal care, household chores, cooking, and transportation as well as occupational, physical, and speech therapy. The second is adult daycare which provides care during normal business hours, five days a week with services that may include meals, snacks, and health monitoring as well as fitness, enrichment, and social activities.
As such, at-home care typically works best when:
An individual is still somewhat independent and does not need round-the-clock and/or specialized care.
There's a strong support network of family and friends to help manage the at-home care schedule, the supplies needed, and the caregivers, in addition to making sure quality care is provided.
The individual has plenty of opportunities to socialize, stay active, and have purpose when at home.
The home environment is safe (appropriate lighting, grab bars, personal emergency response system, etc.), accessible (ramps, wider doorways for mobility devices/wheelchairs, limited need for stairs), and has the space to accommodate needed medical supplies.
Someone can keep up with the home responsibilities not provided by at-home care such as maintenance and repair.
Transportation is not an issue for adult daycare.
When At-Home Care Isn't The Best Fit
If after considering the above, you determine that at-home care is not the best fit, senior living is another option. You may be surprised to know that senior living offers multiple types of care, each for different needs and wants including:
Independent Living – For seniors seeking a more active, social lifestyle free of the hassles of chores and home upkeep. It also features a range of accommodation options and amenities as well as a full calendar of events and activities.
Assisted Living – Has many of the same features as independent living, but also offers personalized support with activities of daily living like bathing, dressing, and medication management. Care staff is available 24/7 and a registered nursing team is also on site.
Memory Care – Specifically designed for those with Alzheimer's disease and dementia, this type of care features 24-hour support in a secure, calming environment with staff specially trained in memory care.
Senior living also offers benefits that are hard to match at home like:
Maintenance-free living – Residence and yard maintenance, restaurant-style dining, housekeeping, and linen service are provided, not only giving residents freedom from chores, but also the worry over unexpected expenses that come with owning a home.
Everything you need right outside your door – Here, you no longer have to drive to the gym or beauty salon as they are on-site! Plus, residents enjoy the convenience of transportation when they need it and concierge services to make daily life easier.
Social connection and fulfillment – Opportunities to socialize and stay engaged may either be limited at home, difficult to get to or both which can make life lonely, particularly if you live alone. Here, friends, neighbors, and team members are always nearby and our monthly calendar includes social events, exercise programs, classes, clubs, live music and entertainment, opportunities for creative expression, game nights, group outings, religious services, volunteer opportunities, and more!
A focus on wellness – Senior living makes healthy aging easier with a fitness center and exercise classes designed for seniors, spacious grounds to enjoy nature, and nutritious dining plus educational as well as enrichment programs.
Support that empowers independence – With individualized wellness plans and personal care staff onsite 24/7, residents enjoy as little or as much support as they need to thrive. It's a balance that fosters independence and may even help residents feel more empowered without having to call family, friends, and neighbors for help like at home.
Peace of mind – At home, it might be necessary to make modifications to improve safety or to accommodate mobility challenges, however senior living communities are already designed with these features. Communities like ours also have multiple levels of care on the same campus for added peace of mind.
For more information on senior living communities, download our Senior Living Options Guide today!