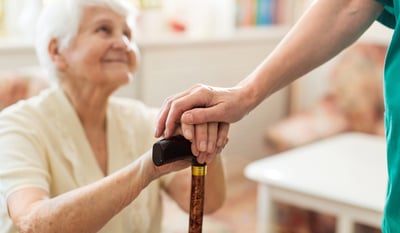 There are many reasons why you or an older loved one may begin to consider some additional help. Perhaps you're tired of cooking, cleaning, and maintaining the house. Maybe your loved one wants more opportunities to socialize and stay active. There may have been a recent health scare or a chronic condition may be getting worse. Regardless of the reason(s), families often believe there are few options available – having loved ones provide help, hiring at-home care, or moving to a nursing home. Not true! Senior living is another option, and despite what most people assume, it's not the same thing as a nursing home. At all. Here's how senior living communities differ from nursing homes.
The Facts on Senior Living Communities
Senior living is actually a continuum of care. Some senior living communities offer one type of care on the continuum and other communities offer multiple types of care on one campus. The most common types of care in senior living include:
Independent Living – This is what you might consider the entry point in the continuum as it's more of a lifestyle choice for seniors who are still able to live independently than a type of care. In independent living, residents enjoy a more active, social way of life free of the hassles of chores and home upkeep. It also features a range of accommodation options and amenities as well as a full calendar of events and activities.
Assisted Living – This type of care has many of the same features as independent living. But in addition, assisted living also offers personalized care and support with activities of daily living like bathing, dressing, and medication management. Care staff is available 24/7 and a registered nursing team is also onsite to provide the right amount of support to help residents remain as independent as possible while enjoying an active, engaging and purposeful life.
Memory Care – Specifically designed to nurture those with Alzheimer's disease and dementia, this type of care features 24-hour support in a secure, calming environment with staff specially trained in memory care. Residents not only have daily support but also opportunities to socialize, stay active and enjoy purpose each day no matter the degree of cognitive impairment.
What Makes Nursing Homes Different?
While senior living communities offer multiple types of care, a nursing home provides one specific type of care. As such it differs from senior living communities in ways that include:
Type of Care – Nursing homes specifically provide round-the-clock and/or specialized care such as treating wounds, intravenous (IV) therapy, injections, and catheter care as well as medical management of chronic conditions. On the other hand, assisted living regulations require that residents are medically stable, and in independent living, onsite medical care is typically not available.

The Setting – Nursing homes are primarily a medical setting and as such, feel more like hospitals. Accommodations are typically small rooms that are often shared. However, in senior living, residents enjoy a range of accommodations from private, luxury apartments to condos to townhomes depending on the community and the type of care provided.

Lifestyle – Because of the higher level of care nursing homes offer, there's more of a focus on the clinical needs of residents versus lifestyle and amenities. In contrast, senior living communities focus on providing an active, social lifestyle and overall well-being. While there may be some level of activity programming in a nursing home, it's nothing like the range of activities, outings, clubs, and classes offered in senior living communities.
For more information on senior living communities, download our Senior Living Options Guide today!