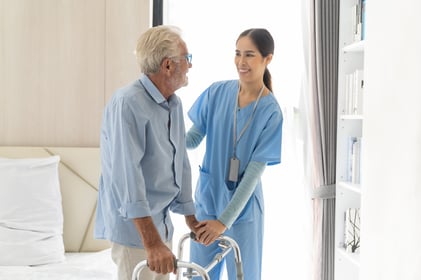 Assisted living is a type of senior living community that families often consider when a loved one begins to need a bit of extra help. But don't assume that means they'll be moving to a hospital-like setting. Far from it! In fact, beyond the support your loved one needs, you may be surprised just how active, enriching and fun life in these communities can be. What is assisted living? Let's find out.
What Is Assisted Living and What Is It Not?
As mentioned above, assisted living is one type of senior living. In addition to housing, it offers residents support with daily activities such as bathing, dressing, and medication assistance. However, assisted living is not for those with medical conditions that require round-the-clock care or specialized care such as dementia. These distinctions make assisted living different from other types of senior living in that:
Independent living typically does not offer daily support although you may opt to use third-party home health services for those needs.

Memory care is exclusively for those with Alzheimer's disease or other types of dementia.
Our assisted living communities are designed to provide just the right level of support to empower our residents' independence, and many also offer other types of senior living on the same campus for added peace of mind.
The Lifestyle in Assisted Living
Assisted living communities offer a range of services and amenities to not only make life easier and more convenient for residents, but also to ensure they are active, social, and engaged each day. For example, our assisted living communities offer:
A private apartment-style suite in a range of options including 1- and 2-bedroom floor plans

24/7 onsite personal care staff

Onsite registered nursing team and regular health assessments

Personalized wellness program and support with daily activities

Medication management program

Concierge services

Restaurant-style dining

Weekly housekeeping and linen service

Fitness center and exercise programs

Library

Full-service beauty salon and barbershop

Monthly events and activities calendar

Scheduled transportation

Full maintenance
When Is It Time to Consider Assisted Living?
Now that we've answered the question, "What is assisted living?" you likely have a better idea of when it might be time to consider this type of senior living for your loved one. Assessing their current situation at home by asking these questions can also help.
Safety
Are they leaving doors unlocked or opening them to strangers?

Have there been instances of wandering or getting disoriented in familiar places?

Have appliances been left on or have you noticed signs of kitchen fires?

Has your loved one fallen or are there concerns in the home that may make them more likely to fall?
Health & Nutrition
Is it becoming difficult for them to get in and out of bed and/or the chair/sofa?

Do they have trouble navigating stairs and/or around furniture?

Have they had a recent health scare or trouble recovering from common illnesses?

Are chronic health conditions getting worse or harder to manage?

Has there been sudden weight loss or gain?

Are there stale, expired foods in the pantry or a stockpile of certain items?

Are they cooking fresh food less often than they used to or not at all?
Daily Activities
Is it becoming harder for them to manage house cleaning, laundry, shopping, and other chores?

Is the home in disrepair and/or are they struggling to maintain the yard?

Is help needed to shower, dress, go to the bathroom, and/or manage medications?

Are plants and/or pets well taken care of?
Transportation
Have they had recent accidents or close calls while driving?

Have you noticed dangerous driving: too fast/slow, tailgating, drifting across lanes, or confusing the gas and the brake?

Does their reaction time seem slower and/or their vision impaired?

Are they getting distracted while driving; any instances of getting lost on the way home?
Social & Emotional Well-Being
Is there a variety of social opportunities available for them at home?

Have they started avoiding activities that they previously loved?

Do they want more purpose in daily life?

Do you notice your loved one seeming more moody or depressed?
Keep in mind that answering "yes" here and there doesn't necessarily mean your loved one needs to move to assisted living right away. But it could signal that you should start more closely considering the best assisted living options for them.
What is assisted living? Download our Just the Facts Guide to Assisted Living guide today to learn more!