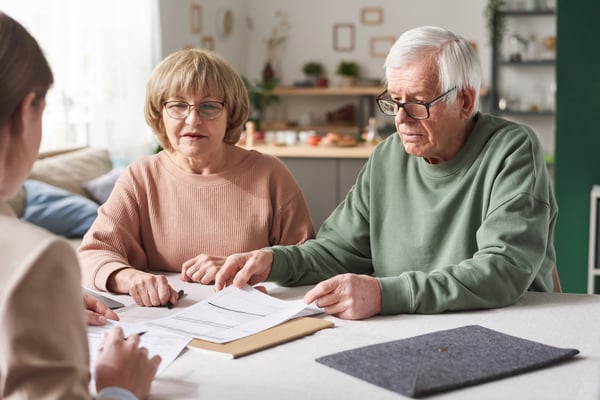 Long-term care services help seniors live as independently and safely as possible when they can no longer perform everyday activities on their own and include medical and non-medical care. In fact, according to the Administration on Aging, a person turning 65 today has almost a 70 percent chance of needing long-term care in their lifetime, and the average duration of care is three years. Long-term care is typically provided at home or in a senior living community. But how does the cost of long-term care compare between the two? Find out here.
The Cost of Long-Term Care at Home
Long-term care at home encompasses three types of services, each supporting different needs. We describe the types of services and average monthly costs according to the 2021 Genworth Cost of Care Survey below.
Homemaker Services –

These services help with household tasks like cooking, cleaning

,

and errands that cannot be managed independently. The average monthly cost is $4,957, assuming 44 hours per week.

Home Health Aide Services –

Assistance with personal care, not medical care. The average monthly cost is $5,148, assuming 44 hours per week.

Adult Day Care –

For seniors who need assistance during the day but not

round-the-clock

, adult day care typically provides health services, therapeutic services

,

and social activities during regular business hours, five days a week. The average monthly cost is $1,690.
The Cost of Long-Term Care in Senior Living
Senior living also offers different types of long-term care services for needs that include the following.
Assisted Living –

This type of long-term care helps with daily tasks such as bathing, dressing, and medication management and offers onsite medical care. These communities also feature a convenient, active, and social lifestyle, with home upkeep, cooking, and housekeeping provided in addition to a range of amenities and social and enrichment opportunities. According to the 2021

Genworth Cost of Care Survey

, the average monthly cost for a private, one-bedroom in assisted living is $4,500.

Memory Care –

Here, you'll find 24-hour support in a secure, nurturing environment with specially trained staff for those with Alzheimer's disease and other types of dementia. Residents have the comfort of a structured daily schedule, enrichment activities, and fitness and social opportunities to help them thrive. Published data on the average monthly cost for memory care varies greatly, but you can usually expect a range between $2,000 to $7,000 monthly.
For more information, download our

Senior Funding Guide

today!
How Do the Costs of Long-Term Care Compare?
To accurately compare the cost of long-term care at home versus senior living, you must calculate the monthly cost of living at home rather than just the mortgage or rent. This cost includes food, utilities, home maintenance, property taxes, insurance, entertainment, and healthcare. Doing so is crucial because while you pay those things out of pocket at home, they are included in the monthly cost of senior living! The worksheet below can help you compare your specific costs.
Monthly Expenses

Costs at Home

Cost in Senior Living

Mortgage or rent

At-home care

included

Property tax and insurance

included

Home maintenance and repairs

included

Lawn care and yard maintenance

included

Housekeeping

included

Utilities
(electricity, gas, water, trash removal, etc.)

included

24-hour security

included

Transportation
(insurance, gas, registration, repairs)

included

Dining

included

Social and Entertainment

included

Exercise and wellness

included

A 24-hour emergency alert system

included

Total Actual Costs
For more information, download our Senior Funding Guide today! Contact us to schedule a tour today.