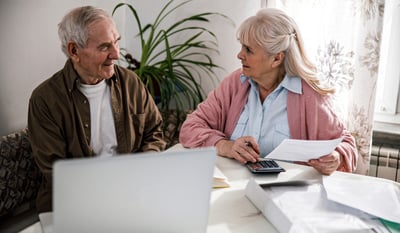 If you have a loved one living with Alzheimer's disease or another type of dementia, you've likely heard of memory care. This type of senior living community is designed specifically to support and nurture those with dementia, but as is the case with any specialized care, there is a price.
According to AARP, 2021 statistics from the National Investment Center for Seniors Housing & Care (NIC) list the average rent in a memory care community at $6,935 per month. While every family wants the best care for their loved one, for many, this cost can be high for some. That doesn't mean it's out of reach, especially with options to help in paying for memory care like these.
Veterans Aid & Attendance Benefit
A wartime veteran or their surviving spouse may be eligible to receive this non-service-connected benefit to help in paying for memory care. The benefit starts with the basic pension and, depending on medical need, gives your loved one a rating that could add more money to their monthly pension. But your loved one must meet the military service criteria as well as the medical requirement AND the financial requirement to qualify.
Long-Term Care (LTC) Insurance
LTC insurance can help your loved one pay for memory care by covering care services typically not covered by health insurance, Medicare, or Medicaid. Many LTC policies begin to pay benefits after an assessment has determined that your loved one needs help with two or more Activities of Daily Living or has cognitive impairments (known as a benefit trigger). However, there will be an elimination period, typically 30, 60, or 90 days after the benefit trigger occurs before payments will be received. During this time your loved one may need to cover the cost of services they receive out of pocket. Also, keep in mind that policies may only pay up to a pre-set daily limit until the lifetime max is reached. Note that it is typically necessary to be in good health to qualify for LTC insurance, so your loved one would have had to have this policy in place before their dementia diagnosis.
Life Insurance Conversion
If your loved one has an in-force life insurance policy, you may be able to transform it into a pre-funded financial account that disburses a monthly benefit to help in paying for memory care. Unlike life insurance, this account is a Medicaid-qualified asset. The conversion process simply transfers ownership of a life insurance policy from the original holder to an entity that acts as a benefits administrator. Because the original owner no longer holds the policy, it won't count against your loved one in the Medicaid spend-down process. There are no application fees to apply for a life insurance conversion and the typical enrollment time is 30-45 days. Once converted, the benefits payments should start immediately.
Reverse Mortgage
A reverse mortgage is a type of home equity loan that's specifically for homeowners 62 or older. It may make sense as an option to access the equity in your loved one's home to help pay for memory care. If your loved one meets the age requirement, owns their home or has a small mortgage, and the home meets FHA property standards as well as flood requirements, they may be eligible. Then, the lender makes payments to the borrower based on a percentage of your loved one's accumulated home equity. Keep in mind, that the loan will need to be repaid when the borrower dies, sells the home, or permanently moves out.
For more information, download our Just the Facts Guide to Memory Care today!