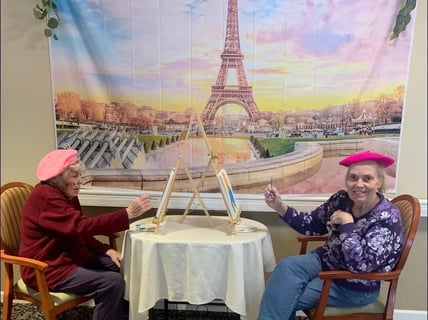 Assisted living is often seen as a place that's only for seniors who can't care for themselves. After all, "assisted" is in the actual name, right? But, as the saying goes, you shouldn't judge a book by its cover because assistance is only a small part of the assisted living story. The reality is that assisted living isn't where you go to give up your independence, it's actually where you can find the support and the opportunities to gain it back. And that's just one of the ways assisted living can improve the quality of life for residents. Here's the full story.
Understanding Assisted Living
Assisted living is a type of senior living. Yes, it does offer assistance with daily activities such as bathing, dressing, and medication management, not to mention you'll find a registered nursing team available, and personal care staff onsite 24/7. However, our communities strive to provide just the right amount of support to meet your specific needs while empowering your independence. That's why needing a little help here and there won't diminish your ability to live an active, social, and engaging life – at least not with us!
Improving Quality of Life in Assisted Living
When we talk about improving quality of life, it's not that we're suggesting circumstances are dire. In fact, many of our residents simply wanted a little extra help here and there, perhaps no longer wanted all the responsibilities of home ownership, or wanted more opportunities to stay active and social than they had at home. Sometimes, it's all of the above! As such, assisted living improves quality of life by offering:
Independence –

Our communities feature personalized wellness plans which means you'll have support with as much or as little as you need to help you thrive. This balance promotes independence and can even help you feel more empowered not having to call family, friends, and neighbors for help any longer.

Less stress –

With full maintenance, housekeeping, linen service, and restaurant-style dining, you'll not only have less stress but more time to pursue the interests that truly make you happy instead.

Convenience –

Amenities are a big part of the story in assisted living. Here they include private apartment-style suites in a range of floor plans, charming common spaces, ample outdoor space, a fitness center, a full-service salon and barbershop, a library, and scheduled transportation. We even offer concierge services!

Connection –

You'll never have to worry about being bored or lonely here! Our assisted living communities offer monthly calendars filled with social events, exercise programs, classes, clubs, live music and entertainment, opportunities for creative expression, game nights, group outings, religious services, volunteer opportunities, and more! Even better, you can enjoy it all with friends, neighbors, and loving care staff who are always nearby.

Peace of mind –

With support at hand 24/7, all the comforts of home, a community design that minimizes steps and fall hazards as well as emergency response systems and other safety features as standard, you can feel safe and secure. Plus, everything you need is right outside your door and many of our communities have multiple levels of care on the same campus for added peace of mind.
Download our Just the Facts Guide to Assisted Living guide today to learn more!