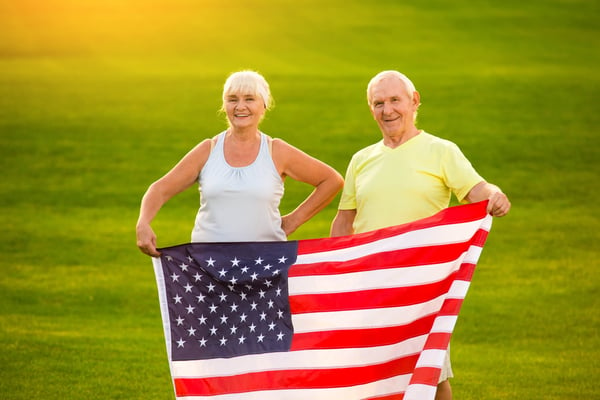 If you or your loved one are considering senior living and also happen to be a wartime Veteran or the surviving spouse of a Veteran, you may be qualified for a non-service-connected benefit to help you pay for it. Although relatively unknown, the Veterans Aid and Attendance benefit can dramatically expand your budget. Here's how this VA benefit for senior living can help.
What is the Veterans Aid and Attendance benefit?
The Veterans Aid and Attendance benefit was established in the 1950s to help wartime Veterans or their surviving spouse pay for care in types of senior living that include assisted living or skilled nursing care as well as home health care or adult day care by providing monthly payments in addition to their monthly VA pension.
Eligibility for Veterans Aid and Attendance
The VA benefit for senior living starts with the Basic Pension and, depending on the medical need, gives you a rating that may add money to your VA pension. But you must meet specific criteria that include:
1. Military service –
Served on Active Duty at least one day during a Period of War, at least 90 days in total, and you were other than dishonorably discharged. Or, your spouse at the time of their death met this criterion.
2. Medical requirement –
The medical rating is determined by the Veteran's medical situation, if alive, or that of their surviving spouse. The applicant must meet at least one of these medical requirements:
You need another person to help you perform daily activities, like bathing, feeding, and dressing.

You have to stay in bed - or spend a large portion of the day in bed – because of illness.

You are a patient in skilled nursing care due to the loss of mental or physical abilities related to a disability.

Your eyesight is limited (even with glasses or contact lenses, you have only 5/200 or less in both eyes; or concentric contraction of the visual field to 5 degrees or less).
3. Financial requirement –
This is a two-pronged requirement that considers both income and assets. The household income of the Veteran or surviving spouse must be less than the pension to which you are applying. But you can deduct your medical insurance premiums, including Medicare, as well as the cost of home care or assisted living fees. The amount of assets you can have is equal to the Maximum Federal Community Spouse Resource Allowance defined by Medicaid – which is $148,620 for 2023. Assets exclude your primary home, family transportation, and personal possessions.
2023 maximum monthly VA benefit for senior living
For Veterans or their surviving spouse who are eligible for Veterans Aid and Attendance, the maximum monthly benefit in 2023 is as follows:
Single Veteran - $2,229 monthly

Veteran with at least 1 dependent spouse or child - $2,642 monthly

Surviving spouse with no dependents - $1,432 monthly
How Aid and Attendance can help with senior living costs
By giving you or your loved one increased buying power, the VA benefit for senior living helps your budget in two ways:
It opens up more options for choosing the senior living community that fits your needs best.

It also gives you peace of mind in being able to stay in the community longer than your budget otherwise may have allowed.
How to apply for Aid and Attendance
Send a completed VA form to the Pension Management Center (PMC) that serves your state to apply for the Aid and Attendance benefit. Find your PMC here. You may also apply in person at a VA office near you.
Remember that it can take six months or more for your VA benefit for senior living to be approved, so it's better to plan ahead than wait until the need is urgent. However, the VA does it retroactively from the date of the application once it's approved.
Download our free guide, Should You Stay or Should You Go: How to Decide Between Home and Senior Living to learn more! Contact us to schedule a tour today.