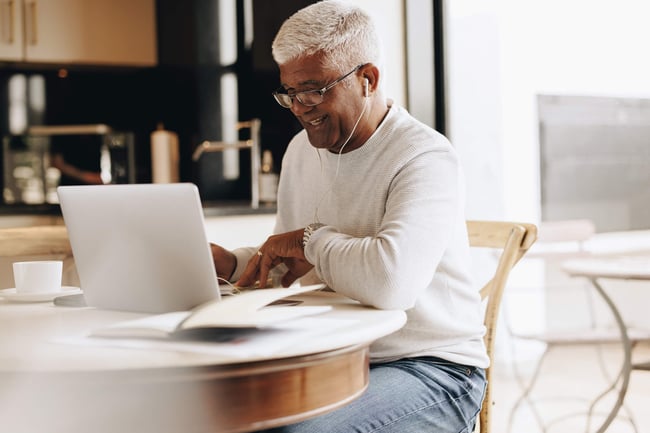 "What senior living communities are near me?"
That's usually the first question asked when considering a move to a community. But that's not necessarily the best place to start. Instead, we suggest asking, "What's the right senior living community for me?" To more easily find the answer, follow these tips as you research senior living.
Tips for searching for senior living communities near me
Assess your senior living needs first
There are some common reasons that prompt families to consider senior living, from a new health concern to a worsening chronic condition to difficulty managing the home and yard. Or it could be a combination of things. But regardless of the reason, it's important to assess your needs at home before researching communities to more easily determine the type of senior living that fits best. So, start by answering these questions.
| | | |
| --- | --- | --- |
| | Yes | No |
| Do you have health issues or concerns? | | |
| Do you have any mobility challenges? | | |
| Do you have any cognitive challenges? | | |
| Do you have challenges performing daily activities independently? | | |
| Do you need help maintaining the house and/or yard? | | |
| Are you concerned about proper nutrition and/or preparing meals independently? | | |
| Do you have challenges with medication management? | | |
| Do you have transportation challenges and/or driving concerns? | | |
| Are there any safety issues in the home? | | |
| Would you enjoy more social opportunities? | | |
| Would you like to find a new hobby or learn something new? | | |
Determine the type of senior living needed
It may come as a surprise to learn that there is more than one type of senior living. But it's important to understand what they offer as each supports different wants and needs. As such, you'll want to determine the type of senior living that would be best based on your assessment above before looking at communities because not all offer each type of senior living. Here's a brief description of each type of senior living:
Independent living –

For seniors who still live independently as the lifestyle focuses on convenience and active living with home upkeep, restaurant-style dining, and housekeeping provided. Residents also have a range of amenities as well as social and enrichment opportunities to enjoy.

Assisted living –

Offers many of the same services, amenities, and activities as independent living. But you'll also have assistance with daily tasks such as bathing, dressing, and medication management. In addition, onsite medical care is available.

Memory care –

Designed for those with Alzheimer's and dementia, memory care offers 24-hour support in a secure, nurturing environment with specially trained staff.
Search the internet for "senior living communities near me"
Now you're ready to answer the question, "What senior living communities are near me?" When researching online, we recommend being as specific as possible. For example, search by the type of senior living (independent living, assisted living, or memory care) that you determined is the best fit and your preferred location. For example, "independent living in city, state."
Then visit the senior living community websites in your search results. You'll want to check out their services and amenities as well as any videos, image galleries, activity calendars, and floor plans they may have. Make sure to follow them on social media, too. Most senior living communities are active here, and it's where you'll get a better sense of their personality and what daily life is like for the residents.
Don't forget online reviews when researching senior living, but consider them with a grain of salt in gauging the communities' reputation. You don't want to base a decision on that alone but rather as part of the overall picture of the senior living communities near you.
Additional ways to research senior living communities nearby
Two additional steps can help you decide on the right senior living community. First, check with those who have firsthand experience with senior living near you. This could include friends, neighbors, colleagues, your doctor, current residents of the communities you're considering, and their families, if possible.
Next, select two to three communities you'd like to tour, as this will provide the most in-depth look at life there. To schedule your tour, contact the communities directly or through their website. Good luck!
For more information on senior living, download our Choosing the Right Community Guide today!