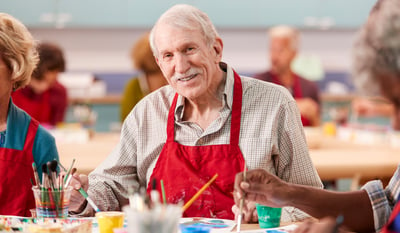 When many families hear the term "senior living" they assume it's nothing more than a fancier way to talk about nursing homes. But that's not the case AT ALL. Nursing homes of the past provided skilled, round-the-clock care and they still do, however, while that was once the only option, senior living has evolved over the years and now offers multiple lifestyle experiences, even for those who are perfectly healthy! Here are four key benefits you'll find in senior living communities today.
Senior Living Communities Then
As you likely well know, stigmas around nursing homes of the past were that they were sterile and sometimes dreary places where seniors would go as a last resort when their care needs were greater than could be managed at home. Specifically, nursing homes were designed for those with medical conditions that require round-the-clock or specialized medical care. As such, they felt more like hospitals, and rightly so, because they are primarily a medical setting. However, these settings have evolved as well with socialization and enrichment activities as part of daily life, in addition, to support and care. But this setting is now only one facet of what senior living offers.
Senior Living Communities Now
Today's senior living communities have recognized that seniors are living longer, healthier, and more active lives and have designed options that cater to different needs; it's no longer one-size-fits-all. We know that there are a number of reasons that families might begin considering senior living. Perhaps you're tired of cooking, cleaning, and maintaining the house. Maybe you want to socialize more and have more opportunities to stay active. Or, your loved one may have had a recent health scare. It could be a combination of any of these or something else entirely. That's why now you'll find senior living options that include:
Independent Living – This option is more of a lifestyle choice for seniors who are still able to live independently but seek a more active, social way of life free of the hassles of chores and home upkeep. It features a range of accommodation options and amenities as well as a full calendar of events and activities.
Assisted Living – This option has many of the same features as independent living but assisted living differs in that it also offers personalized care and support with activities of daily living like bathing, dressing, and medication management. Care staff is available 24/7 and a registered nursing team is also onsite to provide the right amount of support to help you remain as independent as possible while enjoying an active, engaging and purposeful life.
Memory Care – Specifically designed to nurture those with Alzheimer's and dementia, this type of care provides 24-hour support in a secure, calming environment. Staff is specially trained in memory care and not only provides daily support but also opportunities to socialize, stay active and enjoy purpose each day no matter the degree of cognitive impairment.
Key Benefits of Senior Living Communities You'll Find Today
Senior living communities now more closely resemble resorts with sprawling campuses, beautiful accommodation options, a range of amenities, and a focus on wellness. There are truly more opportunities you can count to make the most of life with benefits that include:
Maintenance-Free Living - With amenities like residence and yard maintenance, housekeeping, laundry services, and transportation, senior living communities like ours not only give you freedom from chores, but also the worry over unexpected expenses and repairs that come with owning a home.
Amenities and Convenience - We mentioned resort-like living above, and it's certainly true in our senior living community with a range of floor plans including studio, one and two-bedroom apartment suites, and everything you need right outside your door including restaurant-style dining, library and onsite beauty salon plus 24-hour staffing and concierge services.
A Social, Fulfilling Lifestyle - One of the most rewarding benefits of senior living communities is how much easier it is to connect and find purpose than at home, particularly when living alone. We offer an ever-changing calendar of social events, activities, and outings as well as clubs, classes, and volunteer opportunities to keep you engaged and fulfilled.
An Environment That Supports Wellness - Wellness is at the heart of everything we do. From our fitness program with classes designed for seniors plus a state-of-the-art fitness center to our chef-inspired menus that are healthy, well-balanced, and accommodate dietary restrictions for residents, the environment here supports healthy aging.
Peace of Mind – Our senior living communities typically offer multiple options on the same campus which means that however your health needs evolve over time, you'll always have just the right amount of support from skilled, caring staff dedicated to helping you thrive.
For more information on our senior living communities, download our Senior Living Options Guide today! Or contact us today to schedule a tour.