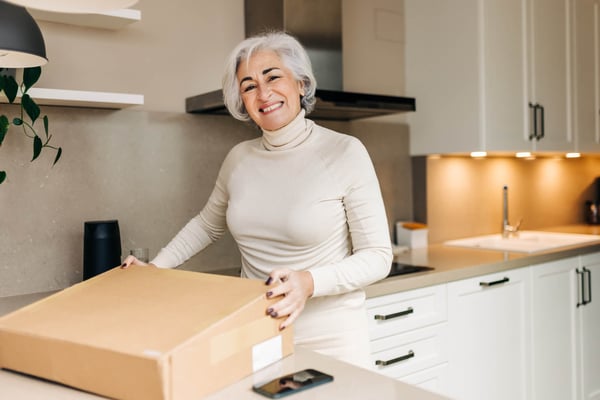 You've successfully picked a senior living community and are ready to enjoy the tremendous benefits the lifestyle offers. There's just one thing left to do: plan a successful move to senior living! While many to-dos are involved in the process, don't panic. We can help with tips on how to prepare, what to bring, and what will make moving day easier.
Preparing for a Move to Senior Living
With a big move, it's natural to feel a range of emotions, from nervousness to nostalgia. But you may not realize that preparing for the move to senior living is a great way to work through those emotions. Three ways to do that include:
Downsizing

– This is a necessity as you're likely going from a house to a smaller space, but it's also an opportunity to reconnect with loved ones as they help you downsize, reminisce over old times, and pass on special items to the next generation of friends and family. To start, you'll need to categorize your items by room (or in more detail if you wish) and set aside a place to sort items into

keep

,

sell

,

donate

,

recycle

and

gift

piles. And remember to take it slow, focusing on one room at a time to avoid getting overwhelmed.

Planning your new space

– While downsizing can help you look back, it's important you keep looking forward as well. One way to do that is to have some fun visualizing how to decorate your new residence. Many communities have interactive room planners on their websites, or you can always just ask for a copy of the floor plan as well. Senior living communities like ours encourage residents to personalize their space as much as possible so it feels like home. Just imagine how you'll display those mementos you plan to keep!

Getting started packing

– Nothing ramps up the stress of a move to senior living like waiting until the last minute, so we recommend starting to pack as soon as possible. Asking the senior living community for recommendations on what you can or can't bring can help streamline this process. Common items to bring include things like bed and bath linens, personal care items, and comfortable clothing. Don't forget photos, favorite books, and other personal items as well.




Moving Day to Your Senior Living Home
Regardless of how confident you feel in your move to senior living, there are bound to be some highs and lows. Moving day is likely to be emotional, but the first 30 days after the move are key to the transition. Be sure to give yourself time to adjust before making any changes. These tips can help:
Unpacking is a priority

– Nothing leaves a person more unsettled than unpacked boxes, which is why the sooner everything is unpacked and set up as you planned, the sooner your new residence will feel like home.

Keeping things positive

– You have a lot to look forward to with a move to senior, like maintenance-free living and amenities like restaurant-style dining, weekly housekeeping, a fitness center, a beauty salon, and lovely outdoor spaces, so focus on that. Not to mention the peace of mind that support is always near.

Getting connected

– Senior living communities like ours are known for their active, social, and engaging lifestyle, so get the monthly calendar right away to see what's available that you might enjoy. Once you find things you love to do and make those first friends, you'll wonder why you didn't move to senior living sooner!
Download our free guide, Should You Stay or Should You Go: How to Decide Between Home and Senior Living to learn more! Contact us to schedule a tour today.