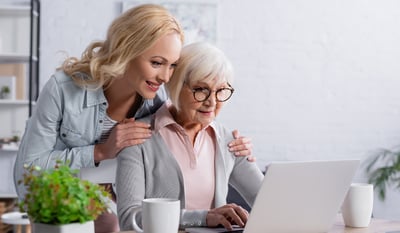 If you ask an older adult (or their family, for that matter) if they would rather move to assisted living or stay at home, it's pretty easy to guess the answer. Home, of course! There are a multitude of reasons in which this is the case; it is home after all. Not the least of which is the fact that most people assume living at home is less costly than assisted living. But that's not necessarily the case. Let's compare assisted living versus home.
Your Options for Care
If you're considering assisted living at all then it must be because you or your loved one would benefit from fewer household responsibilities, support with daily tasks and/or more hands-on care. Assisted living communities can certainly provide all those things, but you do have options at home as well including:
Home Care:

Homemaker services - Help with household tasks such as cooking, chores and transportation.
Home health aide services - "Hands-on" personal care, but not medical care.

Adult Day Care: Care provided during normal business hours, five days a week such as meals, medication assistance, fitness, enrichment programs and social activities.
Comparing the Cost of Assisted Living Versus Home
While there are a variety of factors that affect the cost of care at home and in assisted living, here's what you can expect to pay monthly on average according to the most recent Genworth Cost of Care Survey:
Care at Home
Home Care:

Homemaker Services - $4,481
Home Health Aide Services - $4,576

Adult Day Care - $1,603
In Assisted Living
Private, one-bedroom apartment: $4,300
Also, make sure when you compare the cost of assisted living versus home that you're comparing them apples to apples so to speak. Many people mistakenly compare the monthly cost of assisted living to just their mortgage or rent at home. But that's not a true comparison because your expenses at home are much more than that. The total monthly cost of living at home also includes your food, utilities, home upkeep, property taxes, insurance, transportation, and entertainment. It's vital to include these in the comparison because these things ARE typically included in the monthly cost of assisted living. This means that once you add it all up; in some cases assisted living actually costs less than staying at home!
Added Value in Assisted Living
Aside from the cost itself, assisted living can add value in ways that may be difficult to achieve at home, especially if you or your loved one lives alone. Consider the value of things like removing the stress of chores, home maintenance and yard upkeep from your shoulders, freeing you from the worry of unexpected expenses, treating you to amenities like restaurant-style dining, onsite fitness center and hair salon while also giving you the opportunity to enjoy a full calendar of social and enrichment activities right outside your door. Perhaps most importantly is the added peace of mind that support is always available in assisted living if and when you need it.
Options to Help with Cost
Whether you ultimately decide on at-home care or an assisted living community, it's important to know that there are options to offset the cost, helping your budget to go further, including:
Veterans Aid & Attendance Benefit - Wartime veterans or a surviving spouse may be eligible to receive a non-service-connected pension (above the basic pension) to assist in paying for assisted living, home health care, adult daycare or skilled nursing if certain conditions are met.
Long-Term Care (LTC) Insurance - LTC insurance can help pay for the cost of home care, adult daycare, assisted living, memory care, skilled nursing and hospice by covering services typically not covered by health insurance, Medicare or Medicaid.
Life Insurance Conversion - You or your loved one's in-force life insurance policy may be able to convert into a pre-funded financial account that disburses a monthly benefit to help pay for needs such as home care, assisted living, skilled nursing and hospice.
Reverse Mortgage - This type of home equity loan is for homeowners 62 or older who want to access their equity to supplement retirement income. In this case, the lender makes payments to you based on a percentage of your accumulated equity.
For more information download our Just the Facts Guide to Assisted Living or contact us today to schedule a tour.