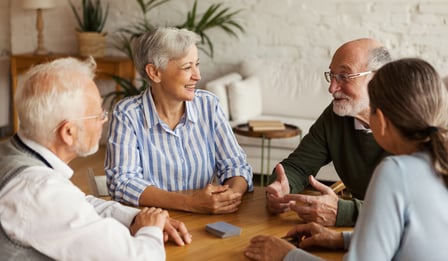 What are your senior living care options? The answer is often a pleasant surprise as most people assume senior living is simply a fancy name for 'the home' of times past. However, that couldn't be further from the truth. In fact, senior living today offers different levels of care for specific wants and needs. Find out which will benefit you or your loved one most.
Independent Living
This option is more about lifestyle than care as it's is ideal for active seniors who are still able to live independently but seek a vibrant social community without the hassle of chores and home upkeep.
In independent living, you can typically expect:
A range of floor plans including studio, one and two-bedroom apartment suites
Maintenance-free living that includes 24-hour staffing, restaurant-style dining, weekly housekeeping, linen service, and transportation
A variety of social opportunities, activities, and clubs
Amenities that include concierge services, fitness center, library and onsite beauty salon/barbershop
Neither onsite medical care nor assistance with activities of daily living is typically offered in independent living.
Assisted Living
This senior living care option offers many of the same services and amenities as independent living, however, assisted living residents also benefit from just the right amount of support to remain as independent as possible while enjoying an engaging, purposeful life.
In assisted living, you can typically expect:
Care staff available 24/7 and a registered nursing team onsite
Personalized support with activities of daily living such as bathing, dressing, eating, and medication management
The comfort of a homelike setting without the worry of home upkeep, cooking, cleaning and yard maintenance
Features that include spacious, private accommodations, fitness center, library, and onsite beauty salon/barbershop
Daily social opportunities through a range of scheduled programs, activities and outings
Keep in mind that while assisted living does offer support services, it typically does not provide the specialized care needed for Alzheimer's disease or dementia, incontinence or chronic health issues that require round-the-clock care.
Memory Care
When it comes to senior living care options, memory care is the most specific as it is designed to nurture and support those with Alzheimer's disease and dementia exclusively.
In memory care, you can typically expect:
Staff specially trained in the needs and challenges of those with Alzheimer's and dementia
An individualized care plan with 24-hour supervision from onsite care staff and a registered nursing team
A secure, calming environment that's easy to navigate
Therapy, a structured daily routine, and programs with social opportunities tailored to each resident's cognitive abilities
Features that include comfortable apartment-style accommodations, housekeeping, and linen service as well as emergency call systems and health monitoring
Respite Care
Sometimes you need a temporary senior living care option in order to give caregivers a break, to support recovery after an illness or injury, or simply to try out what life is like in a community setting. This is known as respite care.
In respite care, you can typically expect:
A short-term stay of two weeks or more
Private, furnished suite with three meals a day, social activities and access to amenities
Support with activities of daily living from onsite care staff
Senior Living Care Options for Today and Tomorrow
When considering your senior living care options, we recommend planning not just for today, but tomorrow as well. One of the best ways to do this is to look at communities that offer more than one level of care on the same campus. This has benefits such as:
Rather than having to move from place to place as health needs evolve, you're able to stay with friends and in the comfort of familiar surroundings
You'll maintain continuity in care which provides invaluable peace of mind for our residents and their families
For more information on your senior living care options, download our Family Decision Toolkit. Or contact us today to schedule a tour.